What is edge-to-edge quilting?
Edge-to-edge quilting consists of a single design that is stitched repeatedly over the entire quilt top. It is also referred to as an all-over design or pantograph.
The cost for edge-to-edge depends on the chosen density and complexity of the pantograph design. I charge between 1.5 cents ($0.015) – 2.5 cents ($0.025) cents per square inch.
Example: Quilt top measures W 60″ x L 80″ 60×80 = 4,800 sq. in. x $0.0175 = $84 for quilting
2.5 cents per sq. in. patterns are a higher density meaning they require more time and thread to stitch the pantograph pattern.
What type of longarm machine do you have?
I use a Gammill Stitcher on a large 12 foot frame with 124″ capability for king sized quilts. Attached is the Statler computer program that allows me to offer digital quilting designs virtually perfect every time.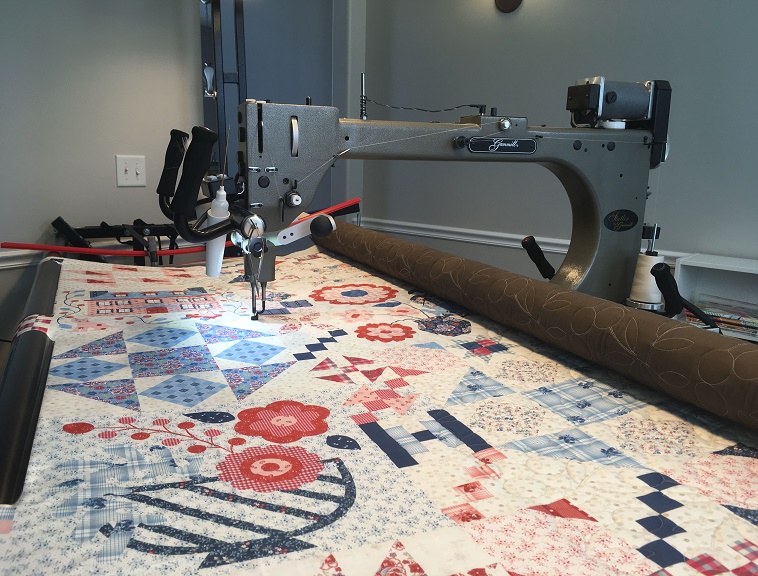 What is included in the quilting service?
Free estimate
Quilt set-up.
Quality quilting thread in a variety of colors.
Quick press as needed from shipping.
Optional trimming of completed quilt to your desired width, 1/4″ 3/8″ 1/2″
Optional pick-up and delivery of quilts for local residents.
Find more information with my FAQs https://cottonbottomquilts.com/quilting-faqs/